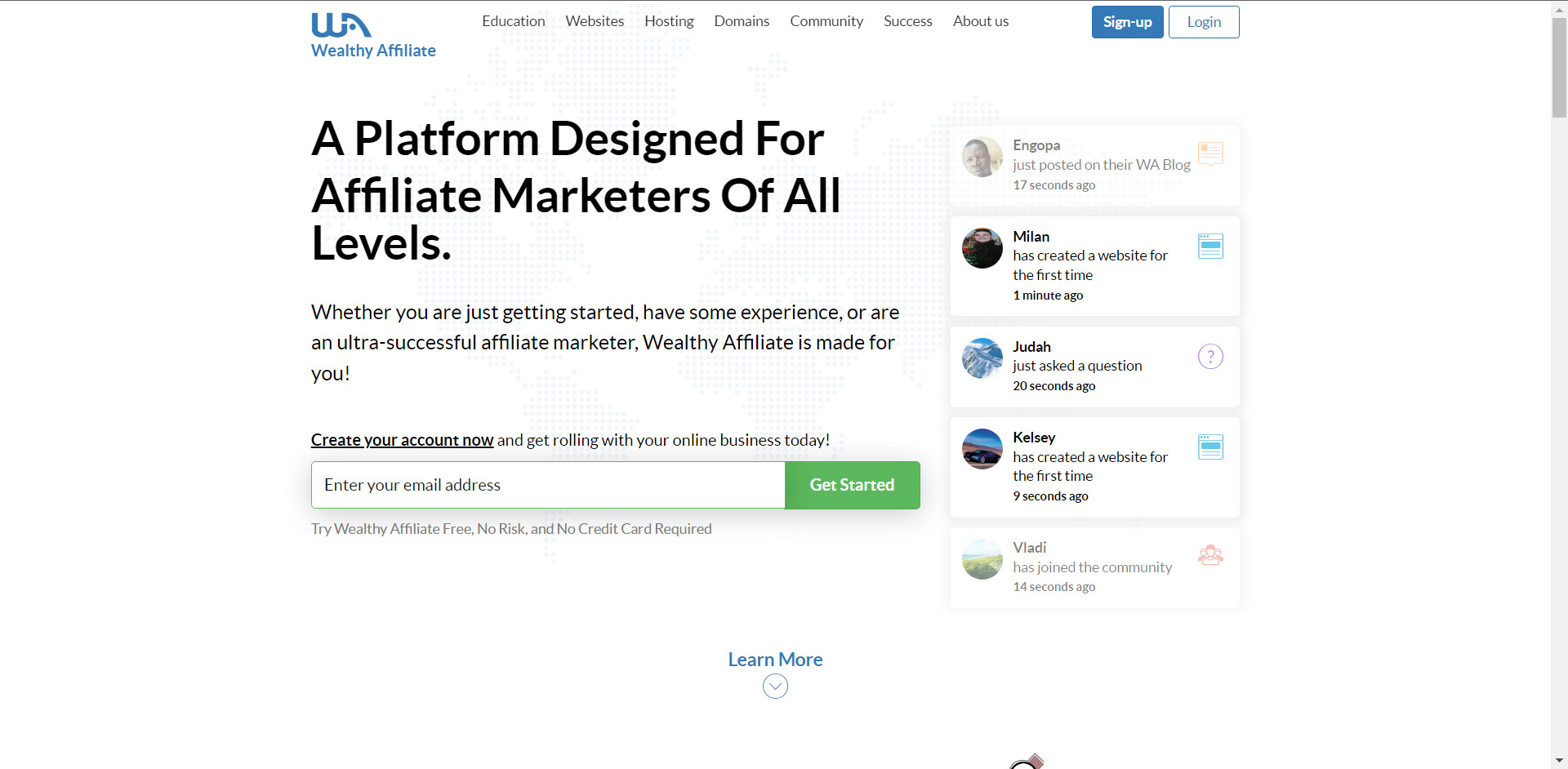 Disclosure:  I am an affiliate of Wealthy Affiliate.  You should assume I will receive a commission if you click on any links to the Wealthy Affiliate and become a member.
Over the years, I've reviewed Wealthy Affiliate multiple times.  Each time, it seems that the review turned into a rather long-winded post about different aspects of Wealthy Affiliate.  While these reviews shared great insight into the Wealthy Affiliate platform and history, I feel that they were largely unstructured.
I've decided to make this my main review page where you can get a basic understanding of Wealthy Affiliate.  If you would like to read my past reviews and any annual update Wealthy Affilliate reviews, I have posted them to a page where you can access them all.
What Is Wealthy Affiliate?
Wealthy Affiliate (affiliate link) is an online business training platform that teaches people how to build and market websites on the internet.  This can be for an existing business, new business, or just a website itself themselves, an existing business, or a new business online.
As their name implies, Wealthy Affiliate has its roots in teaching affiliate marketing, but all of the techniques and concepts that you learn in Wealthy Affiliate can be applied to marketing any type of business online.
What Does Wealthy Affiliate Offer?
Wealthy Affiliate's offering can be summed up in three broad categories:
Training
Managed WordPress Hosting
Community
Training
Wealthy Affiliate's training comes in a couple of different formats.  The different types of training on Wealthy Affiliate include:
Online Entrepreneur Certification Courses
Wealthy Affiliate Classes Consisting of both Live and Recorded Webinars
Member Generated Training
The training itself can come in a variety of different formats that vary from video, to text with screen shots, and a mixture of the two.
Online Entrepreneur Certification course
Wealthy Affiliate has what they refer to as their "Online Entrepreneur Certification" course. This certification course currently consists of five different levels.
Each course will typically have 10 levels with varying amount of tasks for you to complete with around 30-50 tasks per level.  These tasks are actionable items for you to take based off of the content of the lesson.
Basically, the course will take you from not having a website to building one out with tools included as part of Wealthy Affiliate's Managed WordPress Hosting platform.  You don't need any experience and there's an entire community to support you each step of the way.
Course 1 gives you an introduction to online business and how money can be made online.  It also walks you through the steps of creating an initial website with WordPress.
Course 2 continues to guide you on how to build out your website by learning how to find relevant content to write about for your website that it will make it easy for you to rank on search engines
Course 3 dives deeper into different ways that you can monetize your website.
Course 4 teaches you how to use social media to market your business online.
Course 5 dives deeper into content creation and learning how to setup a long term content strategy.
---
Wealthy Affiliate Classes (Live and Recorded Webinars)
The Wealthy Affiliate Class offering has really grown over the last few years.  It used to be once a week on Friday night, but now you can see classes being held on most days of the month.
These classes are hosted by Wealthy Affiliate members with a proven track record of success.  The topics of the training are as varied as the methods used to build revenue generating websites.
Fun Tidbit:  Wealthy Affiliate Classes used to be called "WAbinars".  I'm sure you figured it out, but it's a play on the abbreviation for Wealthy Affiliate (WA) and the word webinar.
The classes are held at various times.  If you can't attend the live portion of the class, then you will be able to watch a recording of it.
An interesting feature is the chat portion of the class.  You can chat and interact with the class host to ask questions during the live webinars.  If you can't attend live, then there is a section on the class page where you can ask questions that you may have while watching a recording of the class.
As of this post they have over 842 classes available to watch with more being added on an almost daily basis.  You can browse through the myriad of classes Wealthy Affiliate offers. (affiliate link)
Here's a list of all the different categories and the amount of classes they have in each training:
These classes are very useful, especially if you happen to be stuck on that exact topic.  As I mentioned before, the classes are recorded so if you can't make the training live for some reason you can go back and watch it later.
---
Member Generated Training
Finally, member generate training is the last broad category of training you will find on Wealthy Affiliate.  WA gives it's members the opportunities to create their own training within Wealthy Affiliate.
Member training will usually be a tutorial, video, course or a combination of all three and are organized in what WA calls "Classrooms", but members also write useful content on their WA blog which is also a source of training.
Tutorials consist of pages of content that you can read through.  Some WA members will also add videos to the tutorials as well.  Videos are just that, videos.  Videos also have a short space for its creator to write some commentary about the video or address questions that other members have asked in the comments.
Finally, courses are similar tutorials, but the share the same structure as WA's Online Entrepreneur Courses with the main feature being the ability of the creator to add action items that other members will be able to "check off" as they go through the course.
---
Wealthy Affiliate Managed WordPress Hosting
The second major aspect of Wealthy Affiliate is their managed WordPress Hosting Platform.  There are two aspects to this platform: one where you can create websites using your own domain on your domains and the other where you can create a website using a free subdomain of SiteRubix.  Over the years they have continually improved and upgraded their web hosting platform to turn it into the well-oiled machine that it is today.
Wealthy Affiliate recognized that the technical aspect of building and hosting a website can be a big stumbling block for a lot of people, so they've taken great strides to build a managed WordPress hosting platform that is both simple to use and powerful.
Over the years, Wealthy Affiliate has made different improvements to their hosting by introducing new services and features to make it easier for members to focus on marketing their websites instead of the technical details.
Similar to how Apple puts an "i" in front of their products, Wealthy Affiliate has chosen to put the word "Site" in front of all the services and features that are a part of their managed WordPress hosting.  These services and features include:
---
Community
The last broad category of things WA has to offer, but certainly not least, is the Wealthy Affiliate community.  The WA community is comprised of tens of thousands(if not hundreds of thousands – no exaggeration) of active premium members.
Over the years, WA has fostered a very active and vibrant community that has a "pay it forward" attitude.  What this means for you is, you'll be surrounded by a group of people all willing to help you succeed with your online business and willing to provide support when you need it.
There are many different ways for you to communicate with other WA members within the platform:
Live Chat:  Yup, WA has a live chat system built right into it.
Classrooms:  There are "classrooms" that are dedicated to different topics.  If you have a question about a certain topic you can post to a certain classroom.
"Ask A Question":  This is allows you to ask a question in the system and will be tagged with a little black box alerting other members that you need help.
Personal Blog:  Every premium member on Wealthy Affiliate gets their own blog space in their profile on WA.  This is kind of for internal use on WA and is not meant for niche use.
Private Message:  There is also a private message system on WA as well.
---
Negative Aspects of Wealthy Affiliate
As much as I like WA there are things that can be improved upon.
SiteEmail Needs To Be More Robust
First, I would say their SiteEmail system can be improved upon.  Let's just say that they should probably look into trying to filter out the spam and phishing emails a little better.
SiteDomains Doesn't Offer You Access to DNS Records
If you're used to managing your own domain DNS records, then you'll find that SiteDomains is very restrictive in what you can do on your own.  In fact, the only DNS related function you can do on your own is setup top-level domain forwarding.
You will need to open a SiteSupport ticket for any other DNS records that you need created such as MX records, CNAMES, "A" records, TXT records, etc.  With that being said, SiteSupport is very responsive and usually respond to my tickets in a matter of minutes.
SiteRubix Doesn't Have a Typical Control Panel
The third thing that takes some getting use to is how restrictive their web hosting platform is.  They outright ban certain plugins(I don't blame them) and if you are using a lesser known plugin the resources that plugin tries to use, oh let's say an API, might be blocked by their firewall.
Also, there isn't a way to access the database on the backend, you pretty much have to access it via WordPress with a plugin.  Even though these things do annoy me, I realize that with a managed WordPress hosting platform these things aren't unique to SiteRubix.
However, whenever I encountered resources being blocked, all I had to do was open a ticket with SiteSupport and they allowed the IP address.  Obviously, they're only going allow connections for legitimate plugins and will not allow connections that have a negative impact on their hosting environment.
---
Positive Aspects of Wealthy Affiliate
Now that you have a general idea of what WA has to offer and what I don't like about WA, I'm going to tell you what I really like about WA.
A Safe Place To Learn
If you've bought any type of internet training or "make money online training" you've probably experienced that once you buy one course the person you bought if from kept on emailing you with offers to buy other courses.
It can be easy to purchase them thinking that you will be able to implement all of the techniques in all of the courses, but the reality is that implementing one technique or course can be hard enough not to mention two or three courses and techniques.  To further compound the issue, often times each email contains the "latest and greatest" method of making money online.
From the time I joined Wealthy Affiliate 2009 years ago till now, the owners of Wealthy Affiliate have only promoted one other service that wasn't included with the premium membership and that is Jaaxy.
They honestly think they have everything that you need to be successful within Wealthy Affiliate and I strongly believe that they can back that claim up.
Furthermore, there isn't a whole lot of upselling going on.  Recently they did create a new membership tier called Premium Plus which gives you access to more classes.  It is more expensive than what the old premium membership was and is, but you also get a lot of value for the increase in cost.
If you join Wealthy Affiliate as a premium member you don't have to worry about getting pounded with upsell after upsell and promotion after promotion.  You can simply focus on getting your websites up and running and then learn how to market them with WA's training.
Constant Improvement
The owners of WA are constantly working to improve the platform.  Whether it's a new Live Video Training, new member generated training or updates to their core Online Entrepreneur Certification courses, you can be assured that WA stays up to date with the latest trends and happenings that impact the online marketing world and integrate it into the training.
I've also watched their web hosting platform, SiteRubix, turn into an excellent place to host your website over the years.  They are constantly updating and improving it to make your website(s) fast and secure.
Unsurpassed Support
Whether you are asking the community a question, venting your frustrations on your WA blog, or submitting a ticket via SiteSupport, the support you receive from the community and the staff behind the scenes of SiteSupport is absolutely incredible.
It's not uncommon for people to ask questions and get an answer within minutes from other members.  I've personally submitted tickets with SiteSupport and have received responses within minutes and never no more than a few hours.
You'd be hard-pressed to find that kind of responsiveness in any other place, period.  End of story.
---
Final Thoughts
Wealthy Affiliate is a great place for someone who is just starting out to get their online marketing chops.  They will show you step by step how to build and market a website from the ground up.  If you encounter any issues or have any questions the community is always ready to step in and help you out.
If you've been in the online marketing game for awhile, but haven't seen the results that you would like WA still might be a great place for you.  The Online Entrepreneur Course is a great way to have a very structured set of activities to follow in order to improve your website.
If you're still reading this then you should really give Wealthy Affiliate a test drive (affiliate link) and see how you like it.
Finally, if you have ANY questions or comments about Wealthy Affiliate, please leave them below and I will gladly respond to them.