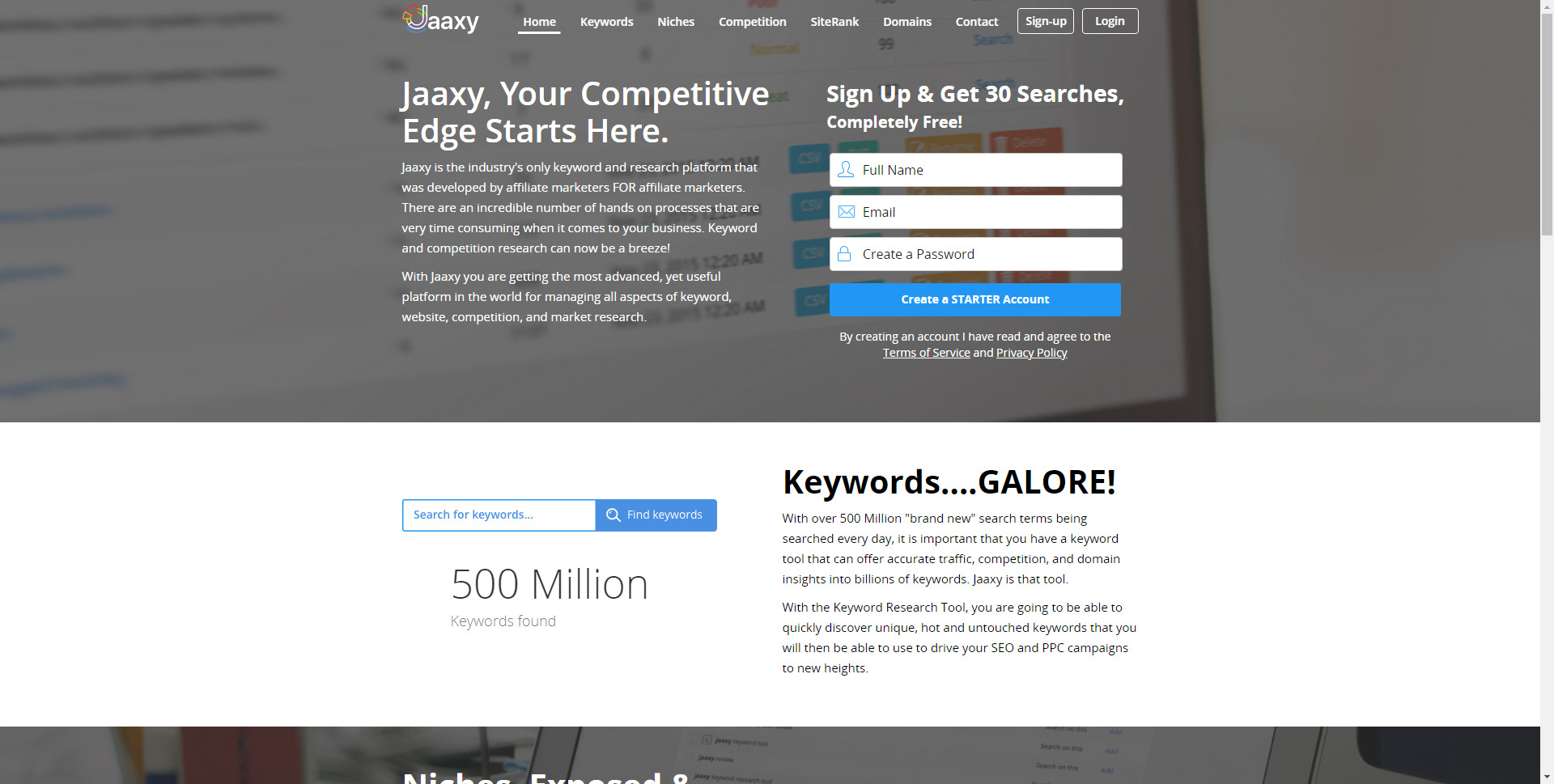 Disclosure:  I am an affiliate of Wealthy Affiliate.  You should assume I will receive a commission if you click on any links to the Wealthy Affiliate and become a member.
Jaaxy Is Now Included in Wealthy Affiliate Membership
I originally wrote this review back in 2013 when Jaaxy was a standalone product.  You can still purchase Jaaxy by itself, but I don't recommend doing so.  In November 2020, Wealthy Affiliate revamped their membership offerings to include access to the Jaaxy platform.
If you purchase a membership at Wealthy Affiliate for the same price you would pay for a Jaaxy subscription, then you get everything Wealthy Affiliate has to offer in addition to your Jaaxy subscription.
Why You May Want To Consider Using Jaaxy
To me what makes Jaaxy so brilliant is the QSR or "Quoted Search Results".  What this means is the number of true results you get back when you do a search in Google with quotes around them.
Now you can't just take the number Google initially gives you which I have labeled as "misleading competition" in the image above.  You have to click all the way back to the last page and once you do that you will get the true amount of results for that search phrase.
In this case, I know that a quoted search result of 552 can be a little hard for the pages on my website to rank for in the search engines.
If I perform a similar search in Jaaxy I get the following result:
Slightly different but not too far off.  Now I was originally going to name the title of my post "My Jaaxy Review", but after seeing this keyword data and while it's "OK" I know that I probably won't get ranked on the first page of Google.
I also know that there are going to be a lot of people targeting the "Jaaxy Review" keyword because of other members of Wealthy Affiliate promoting and doing reviews of Jaaxy as well.
As a result, I chose to use a different search term.  I went with "My Jaaxy Opinion".  I personally like the word opinion better anyways.
The word "review" has a connotation of it being objective, but let's face the reality.  99% of the reviews out there on the internet are either trying to get the people who read their review to buy the product they're reviewing or to sell people on a similar product.
By using the word "opinion" I feel like I'm being a little more transparent and letting them know that the article they are reading is going to be subjective.
Let's see how the results fair for it in Jaaxy:
Now that's my kind of keyword!  Absolutley no competition!  Zilch.  Zippo.  Nada.  Google is just screaming for someone to write content for this keyword.  This is going to be a lot easier to rank for than the keyword "Jaaxy Review".  What's the number of competing pages according to Google?
Now would you look at that?!  Google is actually being honest for once, lol.
Unfortunately, other people have seem to found the same low competition keyword since my review was originally published in 2013.  When I did the same search at the time of this update there were 100 Quoted Search Results:

Alas, nothing is forever.  Which is why you should always be researching new keywords and targeting new keywords with new articles.
Are Keywords With Less Than 10 Searches a Waste of Time?
Now a lot of these quoted search results that Jaaxy spits out at you will have less than 10 searches per month, which might throw a lot of people off.
You're probably thinking "Why should I go through the hassle of making a blog post or writing an article for just 10 searches a month?"  There are two answers to this question:
1)  Getting traffic to your website is a result of cumulative effort.  Let's say you make a lousy one post a week on your website.  If each of your posts gets ranked on the first page of Google at the end of the year you will have 52 posts ranking on the first page of Google getting traffic.  You'll definitely be getting at least a couple of hundred visitors a month.
2)  Writing an article based on a keyword that gets thousands of searches of month is a waste of time if you can never get it to the first page of Google.  It will sit on page 58 never getting any traffic because people rarely go past the first page of the search results.
By writing content based off of low competition keywords you know you have a great chance of being ranked.
My Personal Experience From Low Competition Keywords
To illustrate my point, on one of my websites about a month after the original publishing of this post I wrote a page about a product.
If I plug the title of the page into Jaaxy, Jaaxy says that the monthly search traffic is 56, I can expect to get 10 visitors to my site if it ranks on the first page of Google and there are 92 competing pages.
When I look at my analytics I find that I actually got 46 visitors from Google to that page.
On a different post, according to Jaaxy there are less than 10 monthly searches.  Based on the Jaaxy numbers I should expect to get less than 10 visitors to my website and there are 35 competing pages.
When I look at my analytics that page received 76 visitors in the last month from google.
What is going on?  Is Jaaxy inaccurate?
I would say Jaaxy is very accurate.  The disparity between the numbers is due to the fact that my page and blog post are ranking for other keyword combinations besides the ones that I was targeting with my blog post/page title.
Very few of the visitors to that page/post arrived by using the exact search term that I was targeting.  A lot of them came using related search terms that I would have never thought of but Google thought my page was still relevant for those search terms.
When I first heard that I should choose keywords based on competition and not the search volume I was very skeptical.  Now that I have seen the traffic I can get from these low-competition keywords I am a complete believer.
Now it's time to talk about the differences between the membership levels.
What is the difference between Jaaxy Pro and Jaaxy Enterprise?
From the items listed in the comparison chart I feel the most significant difference based on my personal use of the product is speed at which Jaaxy returns the results and Automated QSR which displays the QSR automatically for each keyword instead of having to click on a link to get the QSR.
There are a few other things that Jaaxy Enterprise does as well such as automatically check for available domain names, Jaaxy Pro does this as well but you have to click for every single keyword you want to check on domains.  Jaaxy Enterprise does this automatically when it loads the keyword result.
When Jaaxy Enterprise first launched I was a little hesitant to upgrade.  I really didn't see any point in spending the extra money to save time by not having to click to see the  quoted search results and I don't buy and resell domains so the domain availability function is of no use to me.  I was happy and content using Jaaxy Pro.
However, being the curious guy that I am I just couldn't resist the urge to check out Jaaxy Enterprise.  As a result, I upgraded.  Now I've only played around with Jaaxy Enterprise for only about an hour at the time of writing this post, but I do notice a huge difference.
As promised, the speed in which Jaaxy Enterprise returns results was a lot faster than Jaaxy Pro.  I was really impressed with the Site Rank feature which returned results way faster in Jaaxy Enterprise than Jaaxy Pro.
Why pay for only Wealthy Affiliate or Jaaxy when you can get both of them at the same price as either one of them?
As mentioned at the beginning of my post, I now recommend purchase a Wealthy Affiliate membership since Jaaxy Pro is included for free with a Wealthy Affiliate Premium membership and Jaaxy Enterprise is included for free with a Wealthy Affiliate Premium Plus membership.
Jaaxy Pro = $49/month
Wealthy Affiliate Premium membership which includes Jaaxy Pro = $49/month
Jaaxy Enterprise = $99/month
Wealthy Affiliate Premium Plus membership which includes Jaaxy Enterprise = $99/month
I don't know about you, but getting a Jaaxy subscription through your Wealthy Affiliate subscription is a no brainer.  This is because I was paying for Jaaxy and Wealthy Affiliate separately up until they revamped the Wealthy Affiliate Membership offerings.
Benefits Of Jaaxy Enterprise:
Speed: It's really fast.  Jaaxy Pro saves you a lot of time over manual keyword research, Jaaxy Enterprise saves you a lot of time over Jaaxy Pro.
Easy to Find Keywords:  Jaaxy Enterprise akes it super easy to find low competition keywords that are easy to rank for.
Ease of Use:  Totally user friendly and makes keyword research fun.
Major Flaws of Jaaxy Pro/Enterprise:
Easy to be a time sink:  It can be a distraction as you you might be tempted to spend a lot more time doing keyword research than actually writing blog posts and articles to utilize those keywords.  This can cut into your productivity if you are not disciplined in your use.
It gives you too many keywords!  Ok, this might not be a "flaw" per se because that is what it is designed to do.  However, this can end up being a "problem" for you.  Let me explain:
You might be tempted to buy a bunch of domains since you will be finding a lot of great keywords with Exact Match Domains that are still available to register.
The problem with this is it's really easy to get carried away and register a bunch of domains.  This will then end up costing you hundreds or thousands of dollars on domain renewal fees in future years.
You want to keep them because they are great domains and you have great plans for them "next month" or "next year".  The only problem is you keep renewing them and never work on them.
Trust me I've done the last one.  It wasn't until this year that I started letting go of my domains.  I realized that I wasn't using them and it was a waste of money to keep renewing them.  Now I am focusing my attention on three domains, one of them being this one.
Selling Domains For a Profit Can Be Easier Said Than Done
Occasionally, I hear Kyle mention that you can sell these domains for a profit.  I will agree that there is a possibility of selling domains for a profit, but that can be easier said than done.
When I was letting go of my domains I decided to sell them on Flippa.  I figured if I was going to let them expire I might as well make some money by selling them.
Now it costs $19 just to list existing domains and $9 to list new websites/domains.  Also, you are required to pay a minimum $10 success fee.  That brings your total cost to sell through flippa to $29 and $19 respectively.  That doesn't even include any special upgrades you might choose to buy.
When I tried selling my domains the winning bid was $15, so it cost me more money to list my domains than I got for them.  On top of that the person who won the bid didn't submit payment for the domains, so I had to file a dispute with flippa getting them to nullify the auction that way the person couldn't claim in the future that I didn't transfer the domains to them.
While I realize that this is the only time I've sold domain names and that I should probably try to sell a few more domains to see if I get similar results, I feel that it is important enough to give you a heads up.  While you can find great domains, it might be harder to sell them for a profit than what people make it seem.
My Overall Opinion of Jaaxy
Jaaxy is a great keyword tool and will definitely help you quickly and easily find keywords you can rank your website for no matter what niche you are in.
Just be sure not to spend all your time researching and I wouldn't recommend buying a bunch of domains just because they are great domains unless your primary business model is buying and selling domains.
I would stick to just a couple of domains to build out websites on max.  Any more than that you are spreading your focus too thin.
Have you used Jaaxy?  What are your thoughts/opinions?  Leave them in the comments below.  Also, if you want to do a couple of searches you can test out Jaaxy with the widget below.