Update:  I have a newer Wealthy Affiliate review.  While this review still contains great information, you'll be able to see the newer services that Wealthy Affiliate has added since this new review was made.
Why Wealthy Affiliate?
Out of all of the tens of thousands of internet marketing training websites, why do I recommend Wealthy Affiliate?
To me that is the ultimate question.
Before you pay any amount of money for any internet marketing/make money online training, you should ask yourself a few simple questions:
What makes this program better/different/unique than all of the other programs out there?
Why should I give them my hard-earned cash?
This is what I am going to attempt to answer with my experiences. So let's begin.
1) No Hype
A lot of the stuff you see online is hype, hype and more hype. You get sent to a sales letter where they make all sorts of income claims about how you can make $XX,xxx per month just with a few clicks of the mouse.  Here is a partial screenshot of the headline of a typical sales letter for an internet training product:
Nice picture, right? All you have to do is click the mouse a couple of times and you are making more money in one month that a lot of people make in one year.  Better yet, you can "start using it 15 minutes from now!"
Now this is actually quite tame from what they were a few years ago.  It seemed like every internet training product you came across would claim that you would make $xx,xxx per month with little or no work.  Finally, the Federal Trade Commission stepped in and required the product owners to be a little more transparent with their claims.
I'm not going to say that they are lying, I'm sure they have some case studies of people who are making that money, but what I will say is those people are the exception and not the rule.
It kills me when I see sales copy like this.  I believe people who use sales copy like this are doing a great injustice to people by leading them to think that no effort is required to make money online.
No matter what training or course you buy there is work to be done. Either you are going to have to do the work yourself or you are going to have to hire someone else to do it for you. No "IFs", "ANDS", or "BUTS".
The sooner you realize this fact the better off you are going to be. The sooner you realize that it is YOU who will make YOU successful and not some course, the faster you will succeed. The sooner you realize that it's the APPLICATION of what you are learning, and not the COURSE itself that is valuable then you are on your way to succeeding.
I've been a member at Wealthy Affiliate since 2009. During that time the owners of Wealthy Affiliate have been very honest with people. They are some of the few people I've come across online that will tell you how it really is. That it does take effort, time and persistence. It's not always going to go smoothly, and there is no guarantee of success. However, the longer you stick at it the more improve your chances for success.
The difference is night and day, you can see the difference in the way they sell their services.  Here is a screenshot from Wealthy Affiliate "sales page".  I put sales page in quotes because it's not really a sales page, it's just a page describing the details of the different membership levels, what you get and their respective prices: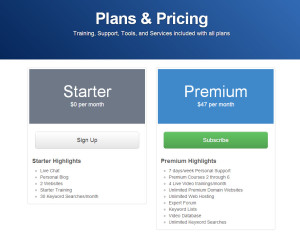 I realize that screenshot is kind of small.  If you click on it, it will take you to the actual page.  What I want you to see is that they simply list what you get at each membership level.
There is no hype telling you that all you have to do is use some push button software and you'll be making more in one month than most people make in a year.
There is no hype getting you emotionally charged on "what your life could be like" without actually telling you what is included in the course.
Instead they just simply tell you what is included in your membership.  They do have some software that will help you create a website really fast, but they don't claim that the software will make you money.  It's simply a tool.  They are very real with you that you will have to action and put in effort in order to make money with online marketing.
Now that I have talked about how typical internet training sites try to sell you with a lot of hype and how wealthy affiliate is "hype-free", I'm going to talk about another unique aspect of Wealthy Affiliate:
2) The Community
A lot of the products you come across just sells you some ebook for $47. Even worse they claim that you can make all this money for only $47, but then proceed to try to sell you more products making it seem like you won't successful if you don't have them. At the end of their sales funnel it is very common to have wound up spending $500+ on "must have" products, when they originally said you only needed to spend $47.
Wealthy Affiliate isn't like that. They tell you their membership fees right up front. That's what you pay. Occasionally they will do a promotion for wealthy affiliate and offer you a discount so you will save money, but they never try to upsell you on anything.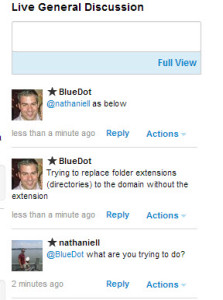 But I digress. Back to my point. There is a vibrant community in wealthy affiliate. A community full of people that are willing to take time out of their own day to help you.
Anytime you have a question on how to do something or proceed you can bounce into live chat and ask someone. Most of the times there is someone with enough experience that they'll be able to answer your question right away.
If not they can help you find the answer by referring you to the myriad of training resources found at WA.  It's not uncommon to see Kyle, one of the co-founders of Wealthy Affiliate, answering questions in live chat.
Another aspect to the Wealthy Affiliate community is your personal blog.  On this blog you can write about your internet marketing journey, things you have learned, questions you have, etc…  After you publish it, other Wealthy Affiliate will offer their comments, opinion, and advice in the comments.
Here is a screenshot of a blog post I made.  You can see all the post as well as some of the comments I received on it.  If you want to see the actual blog post, just click on the image and it will take you to it: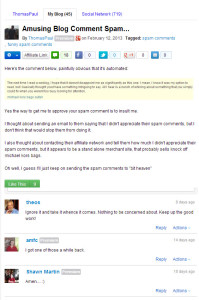 This to me shows the level of interaction on Wealthy Affiliate.  People take time out of their day to communicate with you, even if it's about something as trivial as blog comment spam.
I've never seen this type of real time interaction in any other training site/course that I have come across.  Usually, the course is a stand alone course with no opportunity to interact with other member/purchasers of the course or it's a small forum that doesn't have a lot of activity on it.
3) The Training
I've alluded to this in my second point, so now I'm going to expand on it. There is a lot of junk on the internet about how to make money online. In fact, a lot of this crap doesn't even get updated. It just sits on a server somewhere and the person keeps on selling out dated material.
If you look really closely at the first sales letter screenshot I posted, you'll see they are using a screenshot from 2009.  If they haven't updated their sales page since 2009, when was the last time they updated the training they are selling you?
With internet marketing the reality is that if you rely on outdated techniques you are going to get burned. The reason is because what was common techniques for getting websites ranked in the search engines just a few years ago, is now considered "black hat" by the search engines.
You may innocently be doing these techniques because you bought some outdated course thinking it's going to help you get your website ranked and make you money, but the truth is you are actually shooting yourself in the foot making it harder for you to make money.
At wealthy affiliate the training is constantly being updated. Kyle and Carson are constantly publishing new training and new material as new things emerge. Also, every single member at wealthy affiliate is able to publish training. As a result, you get very current up to date information about what is working in the internet marketing world.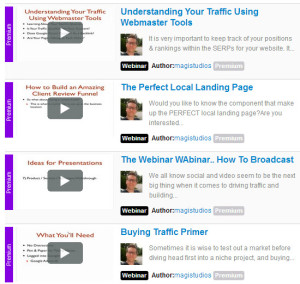 On top of all of that Wealthy Affiliate has weekly webinars, called WAbinars, that you can listen to and ask questions live. If you miss it they are always recorded and you can watch them at your leisure when you have time.
During these WAbinars, Jay focuses on a single topic and discusses it in depth. At the time of this writing he most recently covered how to start using pay per click(a form of paid advertising) to get traffic to your website.
These provide a great introduction and exposure to different Internet Marketing concepts.
4) The Amount of Stuff They Give You For Free
Most websites will offer you to give you a bunch of free bonuses IF you purchase their training. Notice that the key word here is "IF".  If you don't purchase their product, you might as well be dead to them.
Wealthy Affiliate on the other hand gives you all sorts of things for free.  They will give you a free starter account so you can test things out and see if wealthy affiliate is for you.  All you have to do is register for an account and verify that you are a real person.   No credit card is required.   Here are all of the things that you get access to free of charge:
Live Chat:
-if you're new and don't know anything there tons of people willing to help you out and answer your questions.
Online Entrepreneur Certification Level 1
This course will teach you the basics of creating a wordpress website, configuring it, selecting a niche, selecting keywords, and writing content for your niche.
It will basically get your website up which is the foundation of internet marketing. If you don't have a website then you are dead in the water. Trust me, I tried to get by for years without having a website. The sooner you learn to get a website up and create content for it the better off you are.
Own Personal WA blog:
This is a great way to just connect with other member of WA as well as ask questions as an alternative to live chate.
Training Center:
Access to tons of training created by members of wealthy affiliate. Want to know how to do something? Just type what you are looking for and chances are you will find it.
Now I do want to be up front and honest with you.  With a starter account you won't have access to all of the training at Wealthy Affiliate.  There is some training that is for premium members only.  With that being said there is a mind boggling amount of training you have access to as a starter member.
Now we come to the last thing that I think distinguishes Wealthy Affiliate from other internet marketing courses.
5) A Safe Place To Learn And Grow
I've been on Kyle and Carson's WA email list for over 4 years now. Since then they have only promoted three products: Wealthy Affiliate, Jaaxy, and Street Articles.
All of these websites they either own or have a stake in.  I've been on other email lists where I get an email trying to sell me on the "next big thing".  They try to convince me that if I don't buy it right now I'm losing out on all sorts of money and I'm forever doomed to not making a cent online.
The reality of the situation is that if you are constantly bombarded with product promotions you end up just purchasing courses and never really implementing anything.
Wealthy Affiliate is different.
Kyle and Carson truly care about helping you succeed. They know that the training at Wealthy Affiliate is all you need to succeed. They also know that trying to sell you other make money online products to make a quick buck would be a huge disservice to you.  As a result, they don't.
To conclude I think you should give Wealthy Affiliate a shot.  At the very least sign up for a starter account and give Wealthy Affiliate a test drive.
To your success,
Thomas
P.S. – Feel free to leave your personal review or experience of Wealthy Affiliate below.  As usual I welcome all feedback and questions.  🙂